Naramata Creek Park Falls
f
Hike Length (oneway)
1.2km
About The
Waterfall
The Naramata Creek Park hiking trail follows Naramata Creek through a gulley that leads to a more canyon-like area covered in beautiful waterfalls. The hike is about 2.4 km, round trip, and takes about an hour or so with children (longer if they want to splash in the water).
The first part of the trail is maintained by the Regional District. There's an outhouse at the trailhead and then several well maintained bridges, a bench and picnic table along the first section of the trail. The trail is packed dirt with some rocks and roots jutting out. It's possible to push an off-road stroller along the first part of the trail, but I wouldn't recommend it. The trail continues on along, paralleling the creek, but at one point along the trail the park become part of the Nature Trust. After this point there are no more nice bridges, so if you want to continue hiking to see the waterfalls you must cross the creek twice over rocks and logs.
---
How To Get To
Naramata Creek Park Falls
Naramata Creek Park is located north of Penticton on the east side of Okanagan Lake. To get there drive north towards Naramata and just before swerving left into the small town of Naramata look for a narrow, easy to overlook, road on the right side. There is park signage at the end of the road.
REVIEWS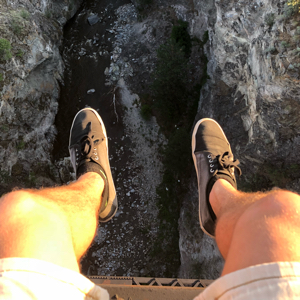 okanaganadventurer
Great hiking trail that was reasonably well traveled and the view of the forest/falls was great. I wouldn't recommend climbing past the falls expecting a better view - as it rather lacks luster upward of the falls. I wouldn't attempt this hike if not at a moderate skill level with proper hiking shoes. Enjoy!
Published: Apr 30th 2018
Last Edit: 7 months ago, by tyler.reynolds
tyler.reynolds